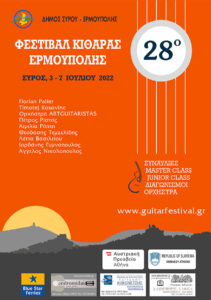 Carrying on our back the difficult years of agony and mourning, this year festival will be more than ever full of feelings of joy, relief and hope …
Hermoupolis Guitar Festival is regarded as one of the top guitar festivals in Greece, noted both for its high-quality events as well as its unique friendly atmosphere.
A five-day summer festival with concerts, recitals, master classes, competitions and a guitar orchestra formed by festival participants. A unique combination of music and vacation.
It's an open celebration, a gathering of creative musicians, teachers and students that offer to the audience unforgettable experiences. The festival is open to guitarists of any age and at any stage of their career and explores the many aspects of the world's most popular instrument through a rich and varied program.
Always seeking new experiences, the festival offers unforgettable events to the audience and step expression to young artists while enriches experiences for students through active participation in seminars, competitions and music ensembles.
Be a part of an unforgettable musical experience this summer, with the bright sun of the Cyclades and the deep blue of the Aegean, in Hermoupolis