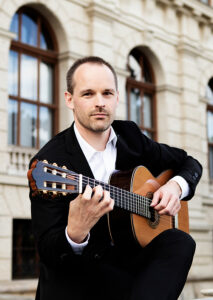 The Austrian guitarist, Florian Palier, grew up in a family of musicians, discovering his passion and love for music at a very early age. He first studied with his father, Johann Palier, later with Macro Diaz Tamayo and finally, with Álvaro Pierri at the University of Music and Performing Arts, Vienna where he graduated with distinction in 2015. As an interpreter, composer and improviser it is his special passion to combine different musical worlds – his biggest influences are Olivier Messiaen, Toru Takemitsu und Allan Holdsworth.
He is regularly invited to play concerts as a soloist and in various chamber music groups all around the world. He thrills the audiences with his performance of the Concierto de Aranjuez (p.e. Luxemburg Philharmonic), his solo program Poetry and Colours (consisting of music by Dowland, Berkeley, his own compositions and improvisations), and his program Bach and me (consisting of music J.S. Bach, his own compositions and improvisations).
Florian Palier's compositions have received top critics. In the last years they have been recorded and performed with big success all around the world by top interpreters. Dusan Bogdanovic wrote about his Sonatina: "your Sonatina (…) is very nice – it's new and follows new paths. It's harmonically and formally sophisticated. Congratulations! "
He is currently teaching a class at the Gustav Mahler Private University in Klagenfurt and one at the Conservatory of Music in Graz. For years he has been the assistant of Álvaro Pierri at the University of Music and Performing Arts in Vienna. He is regularly invited to teach master classes at renowned institutions such as the Taipei National University and the Tokyo Conservatory; besides he is teaching masterclasses at festivals around the whole world.
Palier has won more than 20 first prizes at competitions in Austria and abroad. Concerts, radio and television recordings have taken him throughout Europe, Russia, the Middle East, the US, Japan, and Taiwan.