A great summer vacation with guitar music, nice people, and great food…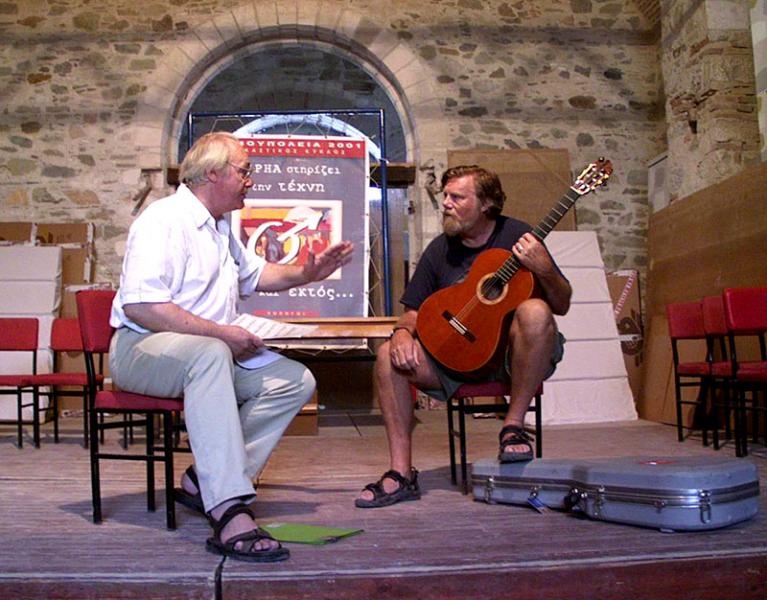 Could the sound of classical guitar music ringing through the clear night air on a remote island warm your heart? Do daydreams of peaceful or romantic evenings on a moonlit beach play in your mind? Do you enjoy trying new foods, meeting kind people, or walking narrow historic streets lined with stone houses and interesting shops? If these images make you smile, you should consider vacationing on the Greek island of Syros by attending the annual Hermoupolis Guitar Festival in July.
The festival focuses on guitar music. There are concerts every evening by world-class performers and classes in the mornings to help beginning, intermediate, and advanced players hone their skills. Afternoons are free time that most use for beach, bed, or practice.
The festival is not aimed only at professional guitarists. It is for anyone who loves hot days, cool nights, beaches and beautiful music. Whether you are a starting student, an advanced player, or simply love to hear others play, this festival makes for a great vacation. Participants range from teenagers to old timers like myself. They include people who simply enjoy hearing the music, beginning students, advanced students, and world-class performers. All are brought together for a week of music, sun, great food, and relaxation.
James Beall – September 2001