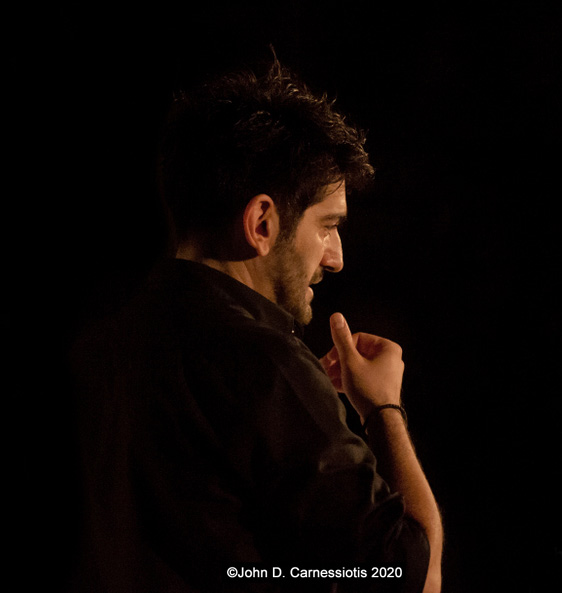 He was born and raised in Thessaloniki. Graduated from University of Thessaly, Department of Physical Education
and Sports, but also with studies in classical and later in modern and jazz song.
He has recorded original songs by new coming composers, Costas Tzanos (2014) and Spyros Paraskevakos (2017).
In 2016 he collaborated with the composer Giorgos Andreou and the lyricists Paraskevas Karasoulos and Giannis
Vassilopoulos, in the album 'PIOS MOY HALASE TO TRENO', in which also perform Dimitra Galani, Vassilis
Papakonstantinou, Korina Legaki and Dimitra Selemidou. In 2018 he participated in the album 'Vertigo', a cycle of
songs in the form of a suite, based on the poetry of Gustavo Adolfo Bequer, composed by Nikos Hatzieleftheriou
and poetry given in greek by Peroulis Sakkelaridis.
In July 2020 he released the single "Frida" from his upcoming -first- personal album entitled "Vlema Sto Vytho",
which will be released in 2021 by Mikri Arktos, with music written by Mimis Nikolopoulos and lyrics by Fotini
Lampridi, as well as Giannis Vassilopoulos.
In 2021, he also participates as a performer in "Madrigalia", the new album of Michalis Tranoudakis, who returns
after many years with twelve Cypriot poems of the 16th century, set to music by him and adapted for classical
guitar by Nikos Hatzieleftheriou . The songs were presented live for the first time at the National Observatory of
Athens, in 2015.