By boat
There are many ferries daily from Piraeus port to Syros island.
Sailing takes approx. 4 hours. (Hermoupolis is the port of Syros)
You can see the daily ferries timetable from the page: https://www.xo.gr/greece-ferry-routes/piraeus-syros/
By Air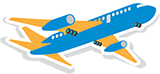 The new Athens International Airport "Eleftherios Venizelos" is located 27 km northeastern of Athens and can be rapidly accessed via a six-lane motorway and public transport – express airport bus on a 24 h basis – from Athens center and the port of Piraeus.
The New Athens International airport "Eleftherios Venizelos"
Hermoupolis is only 20 minutes flight from Athens.
Bus from the airport to Piraeus
You can reach Piraeus from Athens Airport by Bus.

Express Line E96 (24hour operation):
There is an Express bus line connection between the Athens airport and Piraeus.
From the Airport
07:00-20:45 – Every 20′
20:45-22:05 – Every 25′
22:05-06:00 – Every 40′
06:00-07:00 – Every 30′
Line E96 starts from the airport and via Varis – Koropiou – Varkizas roads and Posidonos Avenue, terminates to the center of Pireaus (Karaiskaki Square).
Express Line E96 ticket, costs 2.93 Euro and is valid for 24 hours on all public transport means (buses, trolley-buses and metro).