Konstantinos Kirolytis
Konstantinos is considered a highly talented guitarist of the younger Greek guitarists' generation. In 2000 he received his diploma with honours from George's Mavroedes class. Alongside his studies in guitar he studied at counterpoint class of John Christofilos at the "Attic Conservatory" from where he graduated with Distinction in June 2002. He has actively participated in master classes under the supervision of Aniello Desiderio, Carlo Domeniconi, Zoran Dukic, Carlo Molina, Nikita Koshkin, Pablo Markez, Jorge Morel.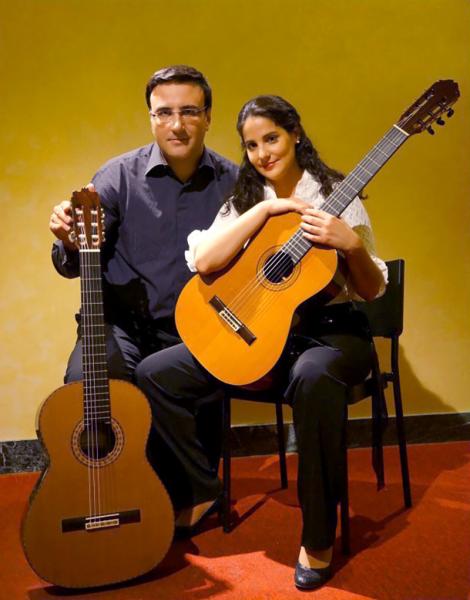 He has frequently performed with great success a particularly demanding repertoire (kostaskirolytis.com/#guitarrepertoir), in well-known concert halls in Athens such as the Byzantine Museum of Athens, Parnassos Athens Concert Hall, Athenaeum International Cultural Centre, Elisse Theatre, Phillipos Nakas Concert Hall, dedicated on a special theme, such as:
The rhythmic and melodic complexity of works arising from the tradition of the country of origin of each composer, through works of L. Brouwer, M. de Falla, B. Bartok and J. Rodrigo.
Compositions of the Hispanic and the Latin American guitar "schools", including references and presentation of the different techniques, styles and eras from classicism until the 20th century, through works of A. Barrios Mangore, F. Moreno Torroba, J. Rodrigo and M. de Falla.
Presentation of two different guitar "schools", the scholar Spanish and the Flamenco, in collaboration with flamenco guitarist Socrates Mastrodimos, displaying the parallel yet fairly influenced course in between them through works of I. Albeniz, J. Rodrigo and M. de Falla. He has performed with great success a concert dedicated to the Italian Baroque and Classicism, performing three concert for string orchestra and guitar of Mauro Giuliani (in A Major) and Antonio Vivaldi (RV 93 and 532).
In 2010 he collaborated with the Symphony Orchestra of the City of Athens in cooperation with the "Association of friends of the guitar Dimitris Fampas", performing for the first time (national premiere) the "Concerto Iberico" by F. Moreno Torroba, for four guitars.
He has cooperated with the Greek Composers' Union (E. E. M. in Greek) by interpreting works of its members.
In 2012 he started his cooperation with AN ART ARTISTRY (Cultural Centre & Artistic Productions Services, Athens, Greece), performing a series of recitals. In 2013 along with classical guitarist Dionyssia Tronti, he co-founded the Classical Guitar Duo Musica Libera (kostaskirolytis.com/#guitarduo), in pursuit of performing the existing repertoire for two guitars, exploring new works and composers and enriches the guitar duo literature with new works as well as their own covers.
On December2015 he released his first CD Classical Guitar Through Centuries: Spain, in collaboration with An-Art Artistry. In this he makes a reference in the literature of the guitar in Spain interpreting composers from Renaissance to Romanticism.
Dionyssia Tronti
Was born in Athens, Greece. She studied the guitar with Elena Papandreou with whom she received her diploma in 2006 from National Conservatory of Athens. Alongside classical guitar she studied Counterpoint with Athanasios Nastos with whom she received her diploma in 2003 with the highest mark. She has also studied Musicology at the University of Athens and she holds a Master's Degree (M. Ed.) in Music Education from University of Nicosia. She played in masterclasses of Evangelos Boudounis, maestro George Hadjinikos, Hubert Kaepell and Oscar Ghiglia.
In July 2004 she performed in Odeon of Herodes Atticus and in December of the same year in Megaron (The Athens Concert Hall) as a member of Evangelos Boudounis' guitar ensemble. She has performed in solo recitals in Attica. In collaboration with classical guitarist Kostas Kirolytis they organized a concert dedicated to classical music which has been based or inspired by the musical tradition of Europe, in which she performed works by J. Rodrigo, M. de Falla and Bella Bartok. The two guitarists continued their collaboration in a concert dedicated to concerts for guitar and chamber orchestra, where they performed works of Antonio Vivaldi. That particular event took place in La Divina concert hall of the ATHENEUM International Cultural Center. In 2013 they founded the classical guitar duo "Musica Libera", aiming to thoroughly work on the repertory of two guitars and to enrich and expand it with newly composed works as well as new transcriptions.
Her musical activity includes collaborations with the University of Athens Music Faculty Orchestra, the Athens State Orchestra and the Symphonic Orchestra of Greek Radio.
Her thorough work in teaching music and guitar as well as her collaboration with Kostas Kirolytis have opened a new way in her musical activity, that of transcribing and arranging pieces for two or more guitars and for student plunged strings ensembles. She is a classical guitar and a music teacher.