The world of music welcomes the music of the world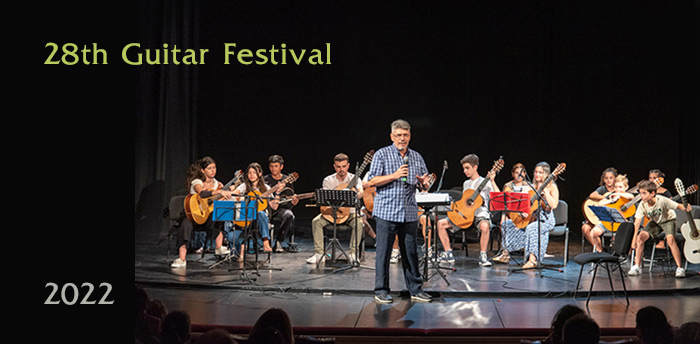 Hermoupolis Guitar Festival is one of the longest-standing institutions in the cultural events of Syros. With a fanatical audience in Greece and abroad, for 28 years now he has managed to place Syros at the center of musical events every summer and to leave satisfied all those who participate in its events.
The artistic director of the festival, Angelos Nikolopoulos, spoke to "Koini Gnomi" about this year's event: "We have hopefully arrived at the 28th guitar festival, one of the first festivals that took place in Syros and, like every year, this year too, has as central musical axis the guitar. It includes various types of music and seminars by musicians and teachers. There is also a competition for three different age groups. For children up to 14 years old, for children from 14 to 17 and for people from 17 and over"
The festival does not want to be repeated and each time it tries to highlight new beautiful places in Ermoupoli with appropriate musical suggestions. This is also the reason why the events take place in different places. "This year, the opening and closing of the festival will take place at the Apollon theater, while we will also try a new venue, the ground floor of the town hall, which the Syrian friends of the festival have suggested to us. We will also use for two days the excellent courtyard of the Cyclades Labor Center, something we did last year as well and it gave an excellent atmosphere," said Mr. Nikolopoulos, while being asked afterwards how the festival manages to exist for so many years and mark every once such a success, he explained to us: "The festival has been created with passion and has been loved by the people of Syros, while it has also made a sensation in the rest of Greece and abroad. We try to consistently create a friendly atmosphere without eccentricities, egos or arrogance, something common in artistic events. Our contact with the children is also very important, because the festival, in addition to the concert, also has an educational character. With the lessons, the concerts, the ensembles and the competition in terms of noble starch, we have created a unique musical atmosphere something that has been passed on by word of mouth all these years".
---
KOINI GNOMI – Friday, July 1, 2022 / Editor: Lina Theologitou