A video review of 18th Hermoupolis Guitar Festival by Gergely Gembela.

Gergely is a 10 year child from Hungary, he won the first prize in 2011 competition and he is allready an amazing guitarist !
Gergely writes: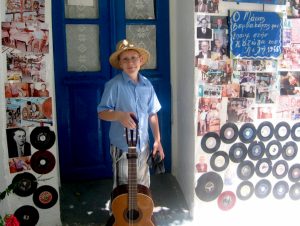 This is a short summary of Hermopoulis Guitar Festival 2011 in Syros where I had the chance to take part.
It was a very well organised festival with a friendly competition for young guitarists and instructive masterclasses with helpful, friendly masters. There was an opportunity to take part in the work of the small festival orchestra, it was fun to prepare some easy pieces for the final concert which took place in the Apollon Theatre.
We recorded some of these at rehearsals and you can hear them in this video.
You can also hear Artemis Armakolas, George Anagnostopoulos and me playing a few seconds from our programs, and at the end Marcos Vamvakaris, who used to live in Syros.

I hope I will be able to go there again, I enjoyed my stay there very much.