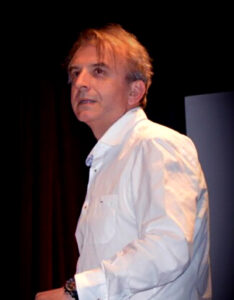 He was born in Veria. He studied Advanced Music Theory, Vocal Studies, Musical Harmony, Counterpoint, Classical Guitar, Fugue–Orchestration, Instrumentation Composition and Choir Direction, with the composers and conductors V. Dellios, Sp. Raftopoulos, M. Travlos, Maria Emma Meligopoulou, V. Boulousis as teachers, and guitar teachers H. Ekmektsoglou and J. Nikolopoulos.
While attending classical studies, he also studied Jazz Piano – Composing with pianist M. Alexiou. He attended Orchestra Conducting seminars with the acknowledged conductors El. Voudouris and J. Conta as well as Choir Direction seminars.
He has composed a number of works for Classical Orchestra as well as works for smaller Ensembles. The past years he has been composing music and writing songs for musical – theatrical performances some of which "Moonlight", "Semolinaman", "The selfish giant", as well as music for the small opera for Alexander the Great by E. Varlamis.
He has conducted orchestra ensembles, and he has also orchestrated a number of Greek and foreign works.
Orchestrator and conductor at the tribute to Manolis Mitsias, with the singer himself as soloist, with the participation of musicians from the Stavros Xarhakos National Greek Music Orchestra,in the summer of 2011, at the Open Summer theatre of Veria.
Orchestrator and conductor at the tribute to Stavros Xarhakos at the Arts House in Veria. His works have been played in many cities as well as the Megaron in Athens.
He is the Art Director and teaches Classical guitar and Advanced Music Theory at the Municipal Conservatory of Veria, founder and conductor of the guitar orchestra ensemble Artguitaristas.
He has taught as a school teacher Choir Theory and Classical guitar at Music Schools in Katerini, Serres, Amindeo, Siatista, Ptolemaida, and Kastoria.
He is the Art Director at Aristoteles Conservatory and teaches Advanced Music Theory and Classical guitar. He is also the founder and conductor of the voice – instrumental ensemble "Monogram".