"Each tone had its life, its story, and incorporated itself beautifully in the wider sound image at the same time."
(Radio Ars, Slovenia)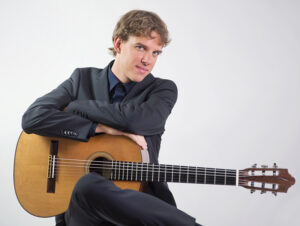 Slovenian born, Vienna-based composer/guitarist Timotej Kosovinc composes for various musical instruments and ensembles and is specialized in concert music. His work frequently combines classical and modern classical composition techniques with musical material drawn from popular music, with the express aim of speaking a musical language accessible to all music lovers. Concurrently, his compositions explore the depths of the human soul and intellect, and are therefore of interest to specialists as well.
He graduated from the mdw – University of Music and Performing Arts Vienna (Austria), where he studied guitar with Alvaro Pierri and composition and music theory with Johannes Kretz and Detlev Müller-Siemens. He was honored by the Federal Ministry for Education, Science and Research of the Republic of Austria in 2019 for his achievements in composition and music theory, and received an honor award from the University for Music and Performing Arts Vienna in 2020 for his achievements as a guitarist.
Kosovinc has won numerous competitions as both composer and guitarist and is a regular guest in prominent concert halls such as Musikverein (Vienna, Austria) or Cankarjev Dom (Ljubljana, Slovenia) and in various festivals and summer schools such as Wien Modern, Intonation Ungarn, Sonus – Kammermusikwerkstatt or International Guitar Festival Postojna. As a guitar soloist he performed with the Slovenian Philharmonic Orchestra and conductor Marko Hribernik and he played several concerts in Austria with the Austrian orchestra Philharmonie Marchfeld and conductor Bettina Schmitt. For more than 10 years, he is organizing summer and winter concerts in Ljubljana (in the Botanical Garden and in the Red Hall of the City Hall), which have already become a tradition.
Both he and others perform his music regularly in concerts and tours throughout the world, and he regularly collaborates with many musicians and other artists in international projects in a number of ensembles.
In his own words, Kosovinc says, "in my music, some will find entertainment or a beautified evening after an exhausting working day; others will identify themselves with it on an emotional level, and still others will observe complex compositional structures and methods of processing the musical material in it. Everybody will be able to find something to enjoy in my music, and I am very happy to share it with them!"
Webpage: www.timotejkosovinc.com
---
With the support: