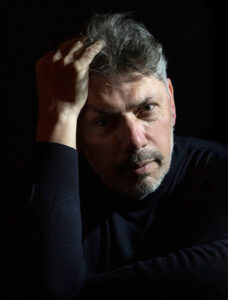 Born in Athens, he studied guitar with Charalabos Ekmektsoglou and Andreas Paleologos and economics at the National University of Athens. He did postgraduate musical studies in Spain, Belgium, France and Hungary.
Chamber music and collaborating the guitar with other instruments in various music styles, from Renaissance to contemporary improvisation and stimulating composers to write new works, are characteristics of his music activity. He was a founding member of the ensembles, "Strings & Stones" (Guitar-Lute, Stones-Percussion), "Arte a Tre" (Flute – Violin – Guitar) and "Duo Epigonos" (Flute-Guitar).
His assets include 4 cds, recordings for radio and television, concerts in various countries and participations in festivals and international competitions juries.  The long involvement with teaching gave as fruit a series of books for learning the guitar to small children under the title "Kitharozografies" (www.kitharozografies.gr).
For 24 years he is the artistic director of "Hermoupolis Guitar Festival" and conductor of the festival orchestra. He was director also of "Spring musical days" and" Guitar Ode" festivals.
In addition to his life-long obsession with music he is engaged with creative photography and web design. He has participate in numerous exhibitions and has built websites for various organization and companies.
For more than 15 years now he is responsible for operation and web development of "Books' Archway", a cultural center in the heart of Athens.